"This is my prayer in the desert
And all that's within me feels dry
This is my prayer in the hunger in me
My God is a God who provides"
this wasn't the post i intended for today. i'd spent days composing in my the head the intended post.
but something else is on my heart.
a desert.
a dry, arid, empty place.
i was talking with my husband last night and, reflecting on the conversation, i believe that this is where we are right now.
the desert.
professionally and financially dry.
why?
lessons to be learned.
which lessons? i'm not sure.
complete & utter reliance on Him
total surrender......
that would be my guess.
just when we've gotten to that point - the point when we give it all to Him - we step in, panic and try to do it ourselves.
again.
the israelites wandered the desert for 40 years, learning the same lesson over and over and over until they got it right.
i don't want that to be me.
yet, even in this apparently desolate place, our God provides for us.
we have clothes on our back.
a roof over our head.
food to eat.
we have our health, we have each other.
perhaps the lesson to be learned is thankfulness. contentment. to rejoice and be glad.
i sometimes find it difficult to distinguish between contentment and laziness.
are we in this period because this is where He wants us to be?
or because there's something we should be doing that we aren't?
honestly, i don't know the answer.
i will do my best to stay in His word, to listen for His voice and to follow His path.
what about you? do you ever feel like you're in an empty place? how do you find your way?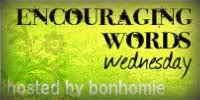 if you have any words of encouragement, i'd love to read them! leave a comment or link your post in the comments section :-)